Criminal Inadmissibility to Enter Canada or the US: Facebook Live May 21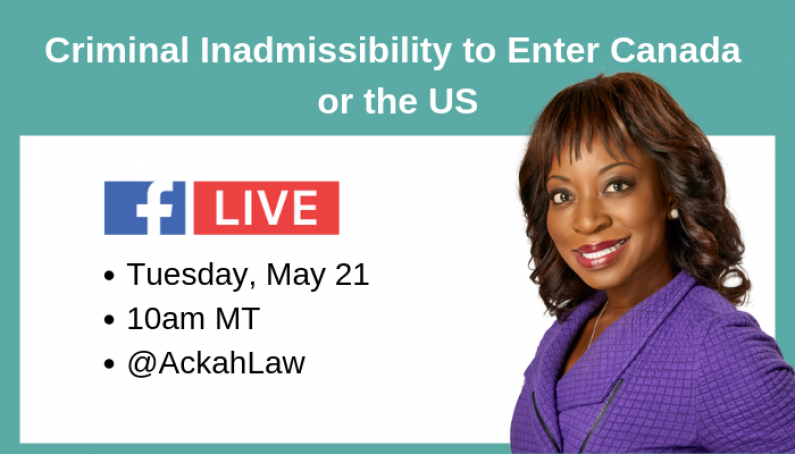 Immigration Lawyer Evelyn Ackah Answers Your Questions about Criminal Inadmissibility to Enter Canada or the US: Your Options Including US Visa Waivers, TRPs and Rehabilitation 
Known for its friendliness, Canada nonetheless does have policies that allow it to effectively deny admission for those it deems a risk or threat. The most common reasons to be denied entry to Canada for criminal inadmissibility are:
Conviction of a crime in Canada or outside of Canada  
Involvement in organized crime 
Involvement in human rights violations 
Committed an act in a foreign nation that is a crime under Canadian law 
Crimes that can result in being denied entry to Canada can include DUI convictions and marijuana possession, even many years ago. 
The United States has similar laws preventing entry into the country from people who have a criminal past.
If you are refused entry to Canada or the United States because of some of those reasons, there may still be ways to enter the country legally. We will discuss the options to enter Canada or the US if you have a conviction in your history on our Facebook LIVE Wednesday, May 22 at 10am MT. 
Criminal Inadmissibility to Enter Canada or the US: Your Options Including US Visa Waivers, TRPs and Rehabilitation
Immigration lawyer Evelyn Ackah will answer your questions on Facebook Live about criminal inadmissibility to Canada and the US including: 
What is Deemed Rehabilitation? 
What is Criminal Rehabilitation? 
What are the qualifications for a US Visa Waiver? 
What if I have been convicted of a DUI?
What if I have a marijuana use conviction in the US but marijuana is legal in Canada?
Note: If you're not able to watch live, the video will be available on our Facebook page: Ackah Business Immigration Law. 
Learn More: 
Do you have questions about Criminal Inadmissibility to enter Canada? We Can Help 
Contact Ackah Business Immigration Law
Calgary: (403) 452‑9515     Vancouver: (604) 985‑9512     Toronto: (416) 643‑7177
North America: 1 (800) 932-1190