Cross-Border Canadian Visa Options for Filmmakers and Other Artists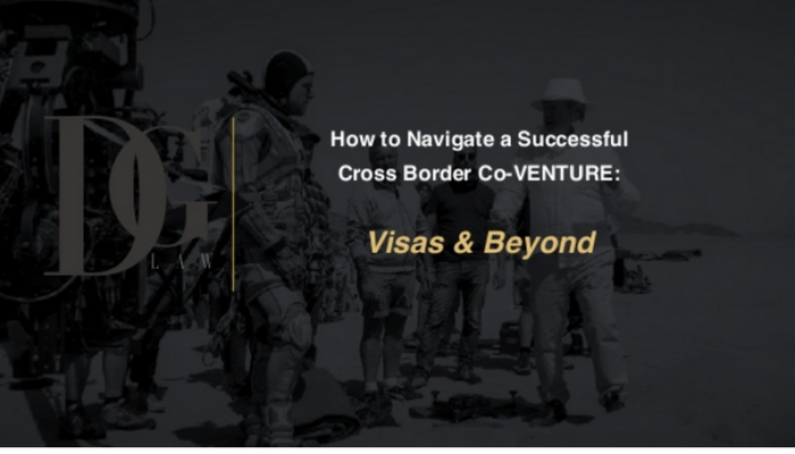 Presented at Toronto International Film Festival (TIFF) 2017: BORDER PATROL by Immigration Lawyer Evelyn Ackah, Ackah Business Immigration Law and Canadian Counsel for D'Alessio Law Group; with co-presenters Lorraine D'Alessio of D'Alessio Law Group and Elliott Anderson of Alliance of Canadian Cinema, Television and Radio Artists (ACTRA) : 
How to Navigate a Successful 
Cross-Border Co-Venture: Visas & Beyond 
With NAFTA under negotiation, US and Canadian producers face new challenges. How do politics impact our industry, productions, and sustainability? This in-depth philosophical and practical session focuses on immigration law, freedom of movement, and the legal implications for co-ventures for US/Canada productions under the new US Administration. Border Patrol informs filmmakers how best to prepare their productions and team amidst political uncertainty. 
Topics covered in this presentation include:
Are you an entertainer, musician, filmmaker or artist who has questions about working in Canada? We Can Help 
Evelyn Ackah is a Canada business immigration law expert and founder and managing lawyer at Ackah Business Immigration Law. Business immigration law focuses on helping people move into new opportunities — both personally and professionally. Ackah Immigration Law helps you to navigate the complex maze of rules and regulations involved with Canadian, U.S. and International immigration law with confidence. Headquartered in Calgary and with offices in Vancouver and Toronto, Ackah Business Immigration Law provides legal immigration advice for those looking to move for work, education or personal reasons.    
Contact Ackah Business Immigration Law 
(403) 452-9515 Ext. 107 or 1-800-932-1190 or contact@ackahlaw.com 
---
Contact us:
Email:
   contact@ackahlaw.com
Phone:
   Calgary: (403) 452‑9515
   Vancouver: (604) 985‑9512
   Toronto: (416) 643‑7177
   North America: 1 (800) 932‑1190


---
Subscribe to our mailing list: