The processing time for a Canada work permit varies depending on the type of work permit you are applying for, your country of citizenship and the time of year you apply. In general, the standard for work permit processing times is between 2 and 8 weeks. However, there may be delays during peak times, such as the summer months. There have been major delays the past few years in processing times due to government office closures caused by the global pandemic. As the backlog was beginning to reduce, a 2 week strike by government workers in April is causing delays. Certain types of work permits may qualify for priority, expedited processing.
Here are some factors that can affect the processing time for your Canada work permit:
The type of work permit you are applying for.
There are different types of work permits available, each with its own set of requirements. For example, a work permit for a skilled worker will take longer to process than a work permit for a temporary foreign worker.
Your country of citizenship.
Citizens of some countries may have to wait longer for their work permit to be processed than citizens of other countries. This is because the Canadian government has different processing times for different countries.
The time of year you apply.
The Canadian government receives more work permit applications during the summer months than during the winter months. This means that processing times may be longer during the summer months.
If you are applying for a Canada work permit, it is important to factor in the processing time when planning your travel. You should also be prepared to provide all of the required documentation with your application. This will help to ensure that your application is processed as quickly as possible.
You can check the current processing times for Canada work permits on the website of the Canadian government. IRCC process times are historical and reflect how long it took to process 80% of the applications.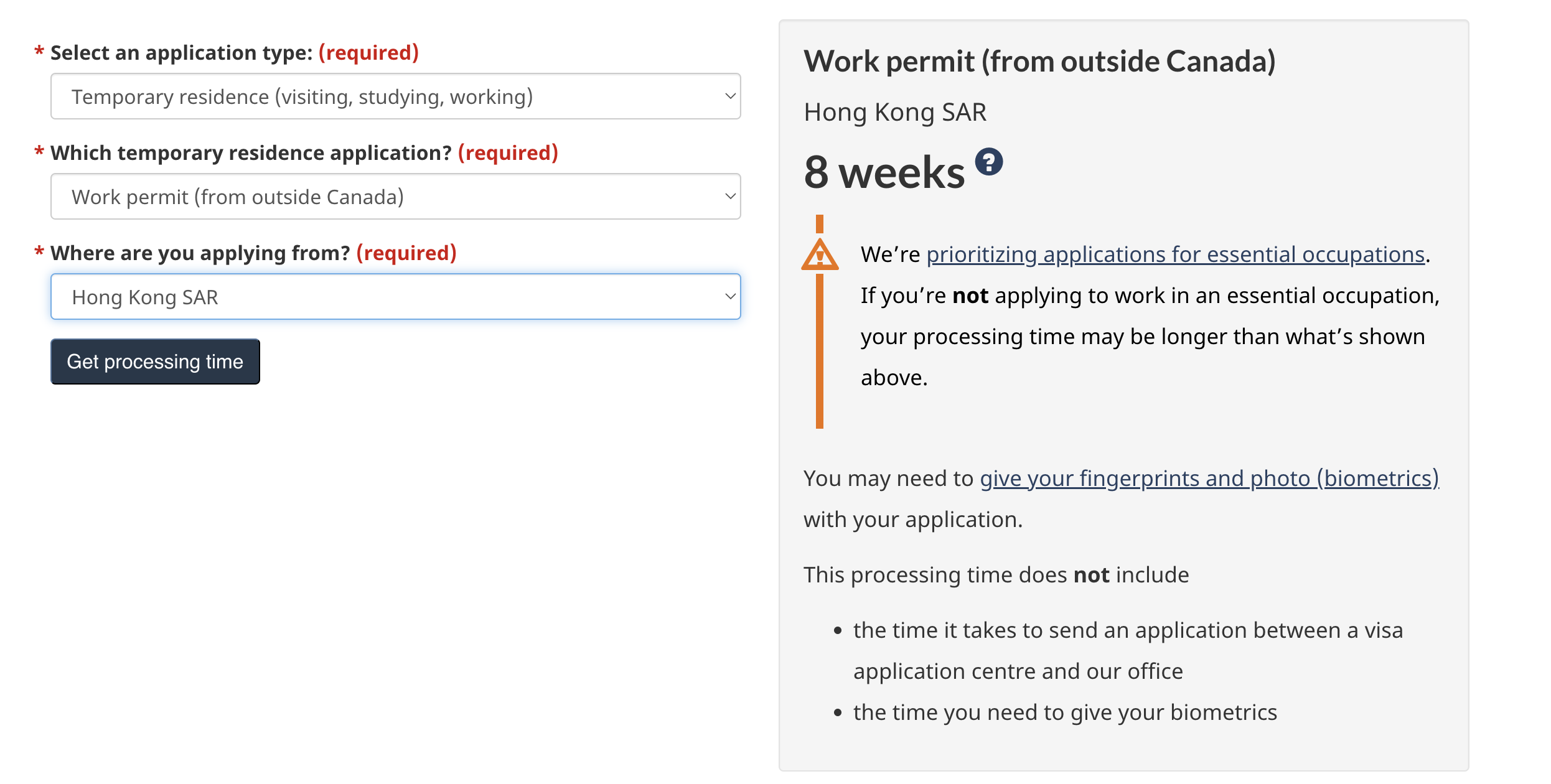 Priority Processing
Immigration, Refugees and Citizenship Canada (IRCC) offers priority, expedited processing for businesses that need to hire foreign workers quickly This allows employers to fast-track their Labour Market Impact Assessment (LMIA) applications and reduce the time it takes to receive approval. In order to be eligible for priority processing, employers must meet certain criteria and provide supporting evidence as part of their application. In some cases, employers may be required to provide additional documents or proof that they are taking steps to recruit and retain Canadian workers.
Employers may receive a 10-business day LMIA processing service for workers in certain occupations.
--> Learn More: LMIA Processing In 2023: How To Expedite Hiring Temporary Foreign Workers


Who Is Required To File For A Canada Work Permit?
You are required to file for a Canada work permit if you are not a Canadian citizen or permanent resident and you want to work temporarily in Canada. There are a few exceptions to this rule, such as if you are a:
Business visitor
Trader or investor
Intra-company transferee
Professional under the Canada–United States–Mexico Agreement (CUSMA)
Spouse or common-law partner of a Canadian citizen or permanent resident
Dependent child of a Canadian citizen or permanent resident
To apply for a Canada work permit, you will need to:
Complete an application form
Pay the application fee
Provide proof of your identity and citizenship
Provide proof of your education and work experience
Provide a letter of offer from an employer in Canada
Provide a medical exam
The application process can be complex, so it is important to consult with an immigration lawyer if you have any questions so your application is not unnecessarily denied or delayed.
Do You Want To Work In Canada?
Ackah Business Immigration Law can help you get your Canada work permit. We have a team of experienced immigration professionals who can guide you through the entire process. We will make sure that your application is complete and accurate, and have a proven track record of success. Ackah Law has helped hundreds of clients obtain their Canada work permits. We understand the complex immigration laws in Canada, and we are committed to helping you achieve your goals.
We offer a free case evaluation, so there is no risk in contacting us. We will answer all of your questions and help you decide if Ackah Law is the right fit for you. Don't wait any longer: the sooner you start the process, the sooner you can start working in Canada.
Contact us today to schedule a consultation and learn more about how we can help you immigrate to Canada. Ackah Business Immigration Law is a full-service immigration law firm for business and individual immigration, with offices in Toronto, Calgary and Vancouver. Contact Ackah Law today at (403) 452-9515 or email us directly at contact@ackahlaw.com.