On May 2, 2023, Immigration, Refugees and Citizenship Canada (IRCC) announced that it is updating the proof of funds requirements for Express Entry candidates. The new requirements, which are effective April 25, 2023, are based on 50% of the low-income cut-off (LICO) for a family of four in the province or territory where the candidate intends to settle.
The new Express Entry proof of funds requirements are: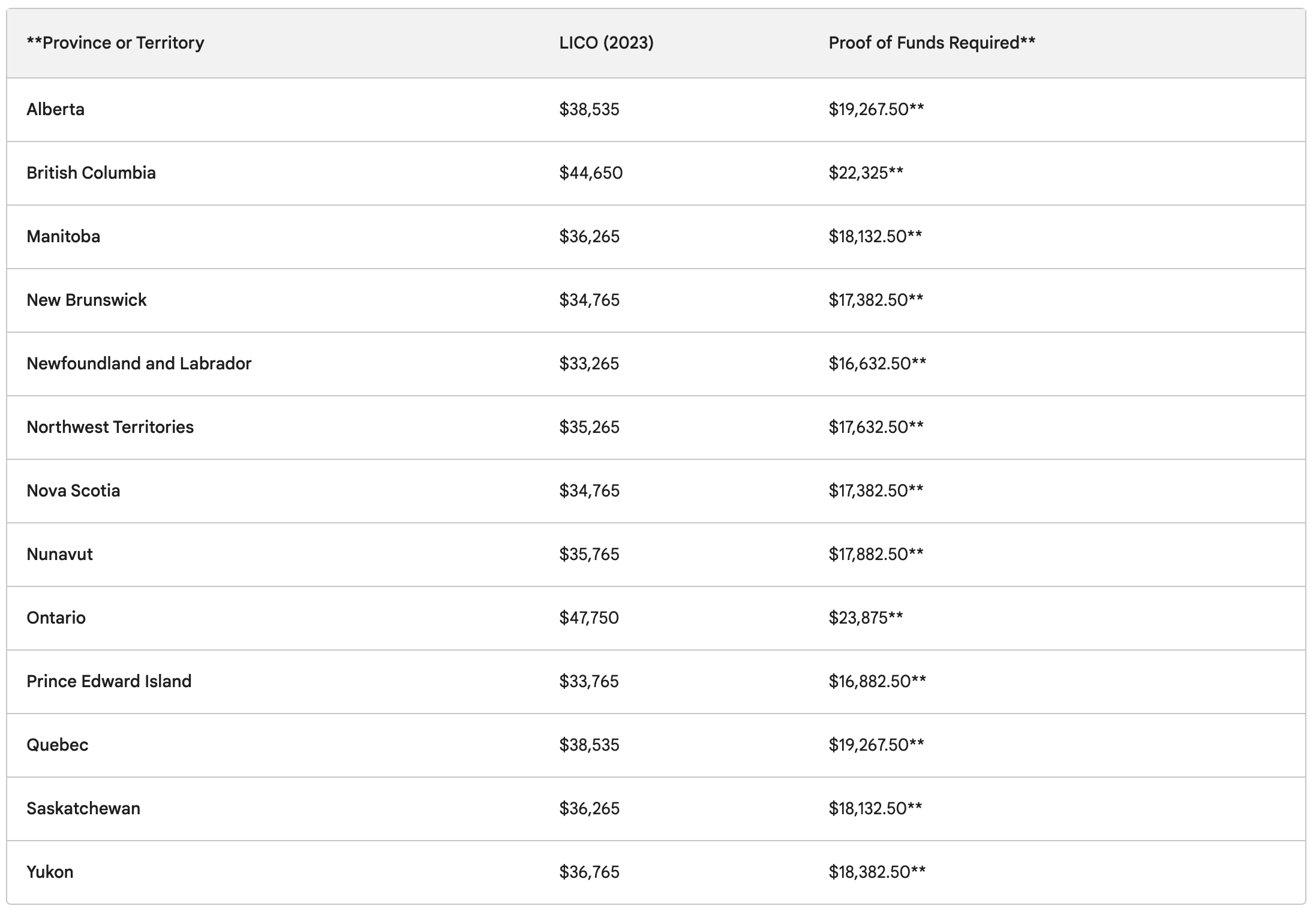 It is important to note that these are the minimum proof of funds requirements. Candidates may need to demonstrate more funds if they have dependents or are planning to bring other family members with them to Canada.

What Is Canada's Express Entry System?
Canada's Immigration Levels Plan 2023-2025 goal is to welcome nearly 83,000 immigrants via Express Entry this year. The Canadian government primarily manages economic class immigration candidates through Express Entry. Those who meet the eligibility criteria for any of the three Express Entry programs
can add their profile to IRCC's website. The profile receives a CRS score based on several human capital factors like education, age, language skills, and work experience. IRCC conducts Express Entry draws approximately every two weeks and offers ITAs (Invitations to Apply) for Permanent Residence to candidates who score the highest.
If you receive an invitation to apply for immigration to Canada through Express Entry, you need to prove that you have enough money to settle in Canada. This is called "proof of funds" and it shows that you can support yourself and your family.
If you're applying under the Canadian Experience Class, you don't need to provide proof of funds.
How To Demonstrate Proof Of Funds

To demonstrate proof of funds, candidates must provide official letters from banks or financial institutions where they have accounts. These letters must show the following information:

The name of the bank or financial institution.
The account number.
The date the account was opened.
The current balance of the account.
The average balance of the account for the past 6 months.
Candidates may also be asked to provide proof of other assets, such as property or investments.

If you are planning to apply for Express Entry in 2023, be sure to factor in the new proof of funds requirements. You can find more information about the requirements on the IRCC website.
Are you thinking about immigrating to Canada through the Express Entry program? If so, a Canadian immigration lawyer can help you with your application.
The Express Entry program is a complex and competitive process, and it's important to have an experienced lawyer on your side to ensure that your application is complete and accurate. A lawyer can also help you navigate the Canadian immigration system and avoid any potential pitfalls.
Hiring a Canadian immigration lawyer is a wise investment that could save you time, money, and stress. If you're serious about immigrating to Canada, don't wait any longer. Contact Ackah Business Immigration Law today.
Here are some benefits of hiring Ackah Law to help with your Express Entry application:
Lawyers have the knowledge and experience to help you navigate the complex Express Entry process.
Lawyers can help you gather the required documentation and ensure that your application is complete and accurate.
Lawyers can represent you at immigration interviews and hearings.
Lawyers can proactively troubleshoot problems before they happen.
Lawyers know the options to expedite the processing time and speed up your immigration application.
If you are serious about immigrating to Canada through the Express Entry program, it is important to hire an experienced Canadian immigration lawyer to help you with your application. Ackah Business Immigration Law can help you increase your chances of success and avoid any potential pitfalls.
Contact Ackah Law today to schedule a consultation and learn more about how we can help you immigrate to Canada. Ackah Business Immigration Law is a full-service immigration law firm for business and individual immigration, with offices in Toronto, Calgary and Vancouver. Contact Ackah Law today at (403) 452-9515 or email us directly at contact@ackahlaw.com.