Frequently Asked Questions About Immigration Law | Canada Immigration Lawyer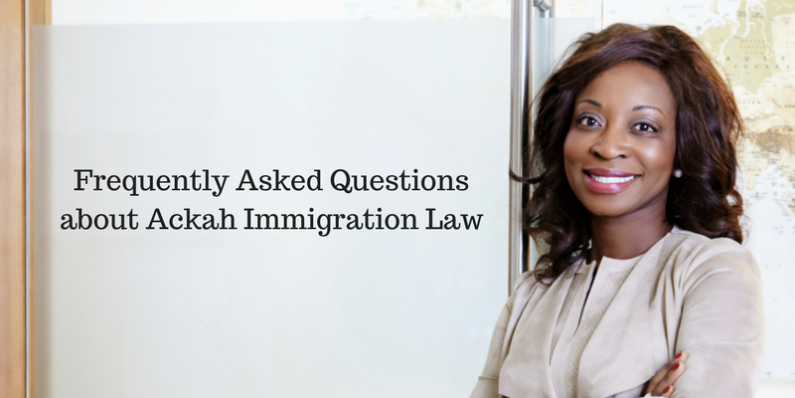 What is the value of getting it done right the first time? 
If you are unfamiliar with immigration law, applying for immigration can be very overwhelming and confusing. I am Evelyn Ackah, founder and managing lawyer at Ackah Business Immigration Law. I have been practicing law for nearly 20 years and spent over 7 years in law school. Our entire team at Ackah Law is highly educated and we specialize in immigration law. We want to ensure your success, and save you time. In order to help you, we have compiled some of the most frequently asked questions our immigration specialists and lawyers have received. 
We want to give you as much information as possible so when you contact one of our client intake specialists you can provide us with the information we need to evaluate your particular immigration case and needs. We will follow your case from beginning to end, until you're immigration applications is approved. We recommend that you work with an experienced immigration professional who has a law society or regulated immigration agency behind them with access to the most recent immigration rules, forms and information. We hope you choose to work with Ackah Law. 
Here are the most frequently asked questions we receive about Ackah Law Immigration Services from prospective clients: 
How Much Do You Charge for Immigration Legal Services?
Where is Ackah Law Located? 
Do I Need a Lawyer to Prepare My Immigration Application? 
Does Ackah Law Help People Find Jobs in Canada or the US? 
Can You Help People Who Want to Go to School in Canada? 

Do you have questions about Canada immigration? 
We Can Help 
Evelyn Ackah is a US and Canada immigration law expert and founder and managing lawyer at Ackah Business Immigration Law. Business immigration law focuses on helping people move into new opportunities — both personally and professionally. Ackah Immigration Law helps you to navigate the complex maze of rules and regulations involved with Canadian, U.S. and international immigration law with confidence. Headquartered in Calgary and with offices in Vancouver and Toronto, Ackah Business Immigration Law provides legal immigration advice for those looking to move for work, education or personal reasons.
We provide expertise in all areas of immigration law ranging from corporate immigration to personal and family immigration matters. We provide comprehensive immigration services to clients around the world representing corporations, institutions, not for profit organizations and individual clients. As your immigration lawyers and paralegals, we provide you with timely and strategic advice relating to the constantly changing immigration laws and regulations. 
Contact Ackah Business Immigration Law
Calgary: (403) 452‑9515     Vancouver: (604) 985‑9512     Toronto: (416) 643‑7177
North America: 1 (800) 932-1190