US Courts Block Trump's Latest Travel Ban of 8 Countries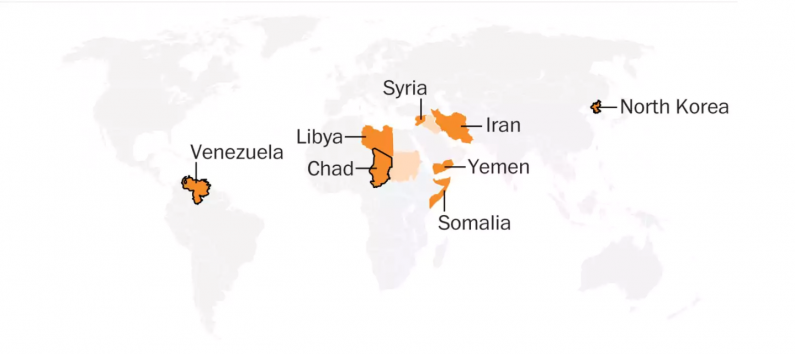 Feature image courtesy of the Washington Post
A United States federal judge has blocked President Trump's third travel ban limiting visitor to the US from eight countries. 
The most recent ban was scheduled to go into effect in the early hours of Wednesday, October 18, barring travelers from Syria, Libya, Iran, Yemen, Chad, Somalia, North Korea and Venezuela. U.S. District Judge Derrick K. Watson in Hawaii's order stops it with respect to all the countries except North Korea and Venezuela. 
Judge Watson wrote that the executive order "plainly discriminates based on nationality" in a way that is opposed to federal law and "the founding principles of this Nation." 
Do you have questions about moving to Canada? We Can Help 
Evelyn Ackah is a Canada immigration law expert and founder and managing lawyer at Ackah Business Immigration Law. Immigration law focuses on helping people move into new opportunities — both personally and professionally. Ackah Immigration Law helps you to navigate the complex maze of rules and regulations involved with Canadian, U.S. and International immigration law with confidence. Headquartered in Calgary and with offices in Vancouver and Toronto, Ackah Business Immigration Law provides legal immigration advice for those looking to move for work, education or personal reasons.   
Contact Ackah Business Immigration Law 
(403) 452-9515 Ext. 107 or 1-800-932-1190 or contact@ackahlaw.com 
---
Contact us:
Email:
   contact@ackahlaw.com
Phone:
   Calgary: (403) 452‑9515
   Vancouver: (604) 985‑9512
   Toronto: (416) 643‑7177
   North America: 1 (800) 932‑1190


---
Subscribe to our mailing list:
By subscribing you are agreeing to receive electronic communications from us, including newsletters, alerts, updates, invitations to seminars and events, and other communications relevant to you and/or your business.
When you subscribe you will receive an email to confirm your subscription, and links to unsubscribe or update your profile at any time.