NAFTA REQUIREMENTS FOR WORKING IN THE U.S.: presented by Canada Immigration Lawyer Evelyn Ackah September 2016
NAFTA REQUIREMENTS FOR WORKING IN THE U.S.: presented by Canada Immigration Lawyer Evelyn Ackah September 2016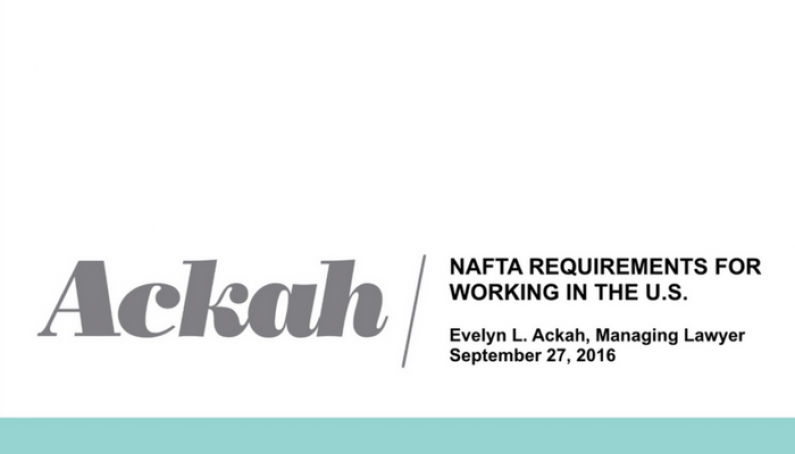 Crossing Borders Seamlessly 
Immigration rules and regulations can be frustrating, confusing, stressful, inefficient and always changing. For nearly 20 years, Evelyn Ackah has been focused exclusively on cross-border immigration law. Her goal is to simplify and expedite the immigration process and help open doors to new opportunities. 

This presentation will provide you with an overview of U.S. immigration options for employment or consulting opportunities for Engineers, Geoscientists and Engineering Technicians/Technologists. 
---
Contact us:
Email:
   contact@ackahlaw.com
Phone:
   Calgary: (403) 452‑9515
   Vancouver: (604) 985‑9512
   Toronto: (416) 643‑7177
   North America: 1 (800) 932‑1190


---
Subscribe to our mailing list:
By subscribing you are agreeing to receive electronic communications from us, including newsletters, alerts, updates, invitations to seminars and events, and other communications relevant to you and/or your business.
When you subscribe you will receive an email to confirm your subscription, and links to unsubscribe or update your profile at any time.