Immigration Lawyer Evelyn Ackah Explains How Canada Express Entry Works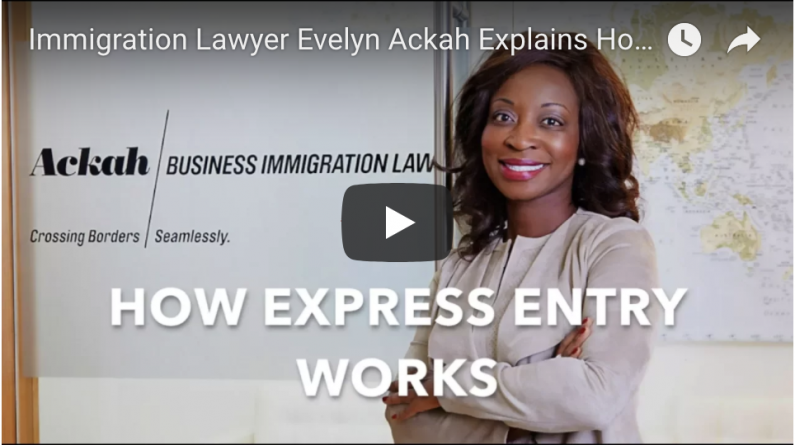 Canada Express Entry requires expert knowledge of immigration law and the submission of precise information. Leave it to the legal experts at Ackah Business Immigration Law to determine your eligibility. Once we have assessed your eligibility, we will create a profile for you and submit it to Express Entry. You will receive points based on your profile. Once you receive your invitation to apply, you have 60 days to submit all your documents and information.  
Watch this video for an explanation of how Canada's Express Entry works: 
As part of our service, we will follow up on your application with Citizenship and Immigration Canada, and follow up with any of your queries along the way.
Learn more: Canadian Express Entry Permanent Residence Applications 
Do you have questions about moving to Canada? We Can Help 
Evelyn Ackah is a Canada immigration law expert and founder and managing lawyer at Ackah Business Immigration Law. Immigration law focuses on helping people move into new opportunities — both personally and professionally. Ackah Immigration Law helps you to navigate the complex maze of rules and regulations involved with Canadian, U.S. and International immigration law with confidence. Headquartered in Calgary and with offices in Vancouver and Toronto, Ackah Business Immigration Law provides legal immigration advice for those looking to move for work, education or personal reasons.   
Contact Ackah Business Immigration Law 
(403) 452-9515 Ext. 107 or 1-800-932-1190 or contact@ackahlaw.com 
---
Contact us:
Email:
   contact@ackahlaw.com
Phone:
   Calgary: (403) 452‑9515
   Vancouver: (604) 985‑9512
   Toronto: (416) 643‑7177
   North America: 1 (800) 932‑1190


---
Subscribe to our mailing list:
By subscribing you are agreeing to receive electronic communications from us, including newsletters, alerts, updates, invitations to seminars and events, and other communications relevant to you and/or your business.
When you subscribe you will receive an email to confirm your subscription, and links to unsubscribe or update your profile at any time.